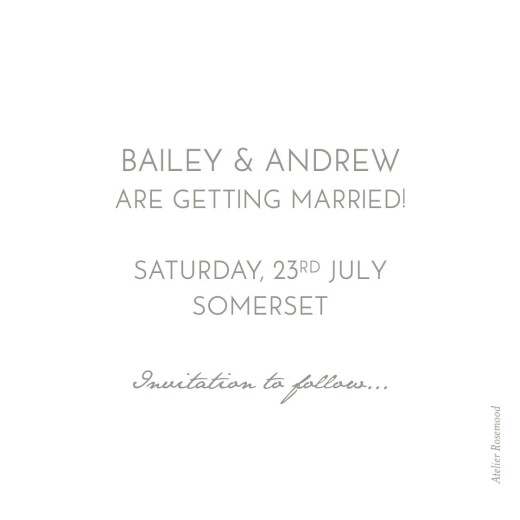 Save The Dates · Flat Card
Little Polaroid
Save The Dates
in a similar style
The Rosemood Touch
Checked by our experts
We proofread your text, optimise the layout and retouch your photos!
Going the extra mile
We are here to help you every step of the way so just ask!
Made in France
The perfect blend of artisanal French know-how and cutting-edge printing.
If you like our Little Polaroid Save The Date. You may also be interested in...
Calculate the price*
Smooth Matte Paper
A pure white paper with a smooth finish
Textured Ivory Paper
A timeless high-quality ivory paper with a textured matte finish
Iridescent Paper
A high-quality, slightly iridescent paper
* Estimated price excl. shipping
Reviews (10)
Little polaroid save the date
Leave a review
Great website, fast delivery
Love these little save the dates with our favourite picture. Very easy to create, great price, and fast delivery (even though we were in covid)
Published by Gemma Whittick, 25 May 2020
very easy, quick delivery considering covid- great free sample / excellent quality
Love this design- very simple to create and excellent finish... can't wait to send these to my guests / now also have my invitation provider!!
Published by Gemma Whittick, 23 Apr 2020
Amazing Quality! Sooo Happy!
Ordered my Save the Dates and could not be happier! The quality of the product is well worth the money!

Can't wait to start designing my invites!
Published by Jess, 13 Feb 2020
Nice Save The Dates, they are quite small but no reason to have them any bigger. Very pleased. Had the shiny finish which I think makes them look more like a Polaroid.
Published by Eve Lomas, 5 Feb 2020
Poor delivery service and tracking
If you live in Northern or Southern Ireland i wouldn't recommend ordering from this company. The items are posted from france and the tracking is poor. My tracker says they tried to deliver 2 days ago (i was in all day) but weren't able to and now the parcel is in my local pick up point... colissimo/la poste don't have any local pick up points and i can't find out where my parcel is. La poste website is mostly in French and hard to figure out. Rosemoods solution is to print and send again but I don't think there's any point as there is no guarantee it will arrive. I wouldn't have ordered if i had known the parcel would be coming from France. They seem to blame it on the irish postal service but i live in the north/uk so there shouldn't have been an issue if it was posted straight from england.
Published by Laura, 29 Jan 2020
Response from the Atelier Rosemood
Hi Laura,
Thank you for your feedback. We are sorry to hear you are disappointed with your experience with Rosemood so far. We hold ourselves to very high standards and would like to apologize for falling short of those on this occasion.
We are currently investigating the exact whereabouts of your parcel, as it is believed to have been dropped off at a local pick-up point. I will get in touch with you directly as soon as I have some news from the Irish postal service for you.
Thanks,
The Rosemood Team
Everything was perfect and turned out beautifully. The service went above and beyond.
Published by Nadia, 15 Jul 2019
Really happy with the template and then the final product. Thank you!
Nice quality, value for money and lovely design templates to work from. I appreciate that additional time taken to ensure that the design is checked and ok for print.
Thank you to the Rosemood team, I look forward to ordering more of my wedding stationery from you soon.

Published by Hannah Routledge, 30 Jun 2019
Absolutely loved our save the dates - had so many lovely comments about them, the quality was perfect. Customer service was brilliant too. Would definitely recommend them and Rosemood. Thank you!!
Published by Elizabeth, 11 Sep 2018
Great quality and great service!
We wanted a very specific (and slightly unusual picture) for our save the dates. The team were so helpful and the results are great. Couldn't be happier!
Published by Hannah, 31 Aug 2018
Our save the dates were beautiful, everyone loved them and I found the process of ordering from rosemood extremely easy.
Published by Sam, 5 Dec 2017
,