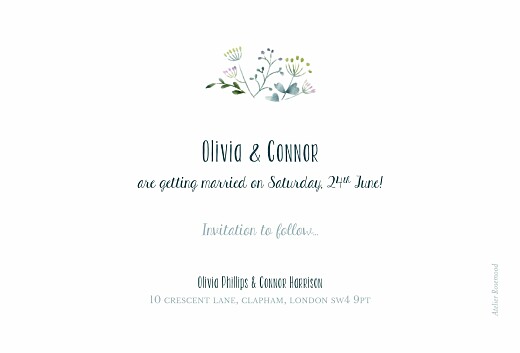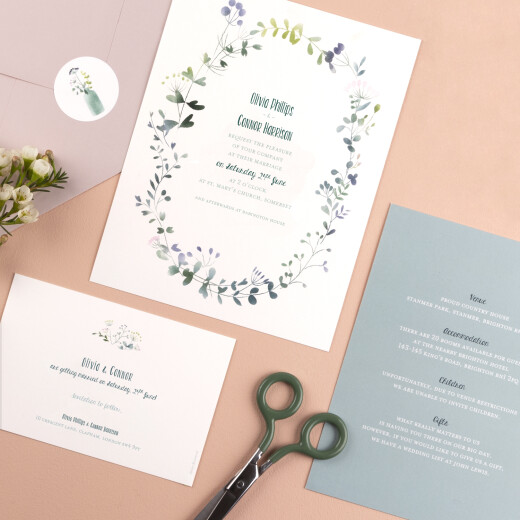 Save The Dates · Flat Card
Watercolour Meadow
Products to match your Watercolour Meadow Save The Dates
See The Suite
Save The Dates
in a similar style
The Rosemood Touch
Checked by our experts
We proofread your text, optimise the layout and retouch your photos!
Going the extra mile
We are here to help you every step of the way so just ask!
Made in France
The perfect blend of artisanal French know-how and cutting-edge printing.
If you like our Watercolour Meadow Save The Date. You may also be interested in...
Calculate the price*
Smooth Matte Paper
A pure white paper with a smooth finish
Textured Ivory Paper
A timeless high-quality ivory paper with a textured matte finish
Iridescent Paper
A high-quality, slightly iridescent paper
* Estimated price excl. shipping
Reviews (8)
Watercolour meadow save the date
Leave a review
Honestly they are perfect! The colours are accurate and bright. I can't fault it 10/10
Published by Jasmine Brenton, 2 Mar 2020
Save the date - beautiful
Absolutely beautiful stationary, everyone has commented on how pretty it is! Good communication and quick delivery, I liked how they checked it over and sent recommendations for changes before sending it to print, top service.
Published by Ellie, 17 Feb 2020
Perfect save the date cards
The cards arrived on time, good quality and exactly as described on the website.
Published by Ruth, 2 Jan 2020
Overall we loved the quality of the save the date cards however the envelopes provided were too small for the cards.
Published by Jev, 7 Aug 2019
Response from the Atelier Rosemood
We're terribly sorry to hear about your envelopes. We know that this is a crucial component of your wedding stationery, and we want you to have just the right envelopes for your save the date cards. One of our stationery experts will be in touch to help sort this out and ensure you get the perfect cards for your needs.
Kind regards,
Colin
Our daughter and her fiancé were very pleased with their choice - from the delicate design to the quality of the stationery to the excellent customer service and speedy delivery.
Published by Katy Church, 7 Mar 2019
Beautiful design and exactly what me and my fiance wanted! We love them and cant wait to order the rest of the set for our invitations. Had many comments for guests on how lovely our save the dates are. Thank you!
Published by Louis Bedwell, 16 Aug 2018
I love my Save the Date cards! They're the perfect size and I love the design so much. All in all Rosemood was really easy to use and make high quality cards!
Published by Suzy Fink, 15 Jun 2018
We ordered these after originally trying to make our own save the dates to save money - however after realising these were only minimally more cost-wise we ordered some samples. When they came we loved the quality and designs, so put in our order. We couldn't be happier with them! Beautiful colours, understated design (we hate the ostentatious wedding invites that are so fashionable) and fab paper quality. Couldn't recommend highly enough!
Published by Rebecca , 14 Dec 2017
,