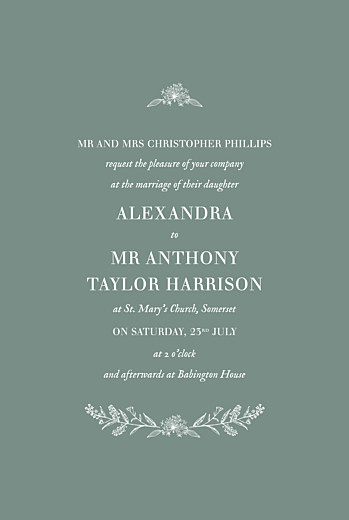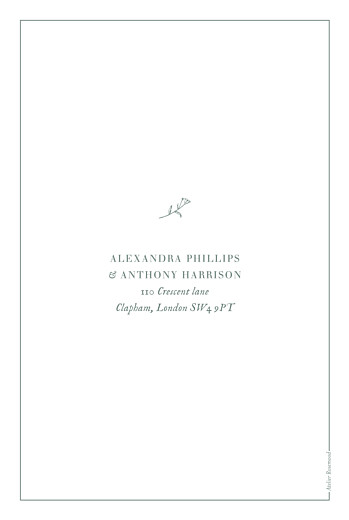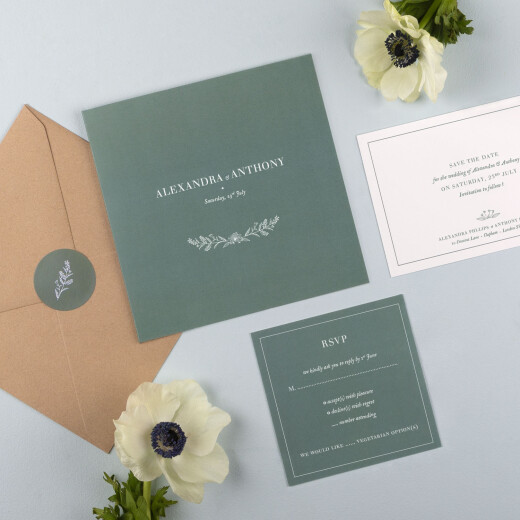 Wedding Invitations · Flat Card
Natural Chic (small)
Products to match your Natural Chic (small) Wedding Invitations
See The Suite
Wedding Invitations
in a similar style
The Rosemood Touch
Checked by our experts
We proofread your text, optimise the layout and retouch your photos!
Going the extra mile
We are here to help you every step of the way so just ask!
Made in France
The perfect blend of artisanal French know-how and cutting-edge printing.
If you like our Natural Chic (small) Wedding Invitation. You may also be interested in...
Calculate the price*
Smooth Matte Paper
A pure white paper with a smooth finish
Textured Ivory Paper
A timeless high-quality ivory paper with a textured matte finish
Iridescent Paper
A high-quality, slightly iridescent paper
* Estimated price excl. shipping
Custom colour
We can personalise this design to the colour of your choice!

Provide us with a HEX colour code for the shade you are looking for and then let us work our magic.

Contact our friendly customer service team on 020 3966 8736 to find out more.
Reviews (4)
Natural chic (small) wedding invitation
Leave a review
Fast delivery, great customer service especially during the pandemic. Most of all, stylish designs and reasonably priced. So glad to have found this company for our wedding stationary.
Published by Natalie, 4 Feb 2022
High quality and beautiful design.
Perfect attention to detail, clear communication and speedy delivery. Kept coming back for more!
Published by Jemima Soare, 19 Dec 2020
Sadly the whole thing was really undermined because the glue on the envelopes was faulty and would not bond - we tried all four sets and all the same. We had to glue them shut which was ridiculous
A real shame as the invites were beautiful - so sad
Published by Catherine , 1 Jul 2019
Response from the Atelier Rosemood
Hi,
Thank you for your message and so sorry to hear that you were disappointed with your envelopes. We know that your envelopes are a very important part of your wedding invitations, a detail that we aim to get just right on every order. We apologise that the envelopes you recieved were defective and one of our stationery experts will be in touch with you soon to help rectify the issue.
Best wishes,
The Rosemood Team
Great designs and paper quality. The team are so quick in getting back to you with advice regarding any changes. Would thoroughly recommend!
Published by Emma, 15 Jun 2018
,