Couples Photo Albums
A photo book for every chapter of your story
Record each milestone and event celebrated as a couple by immortalising your favourite memories within personalised photo albums. Create your very own collection of couples photo albums to be able to flick through pictures from each romantic getaway, family event and those extraordinarily ordinary moments of everyday life as a happy couple. We have carefully curated a collection of soft and hardcover photo books to do justice to your precious memories, allowing you to enjoy them for years to come. Choose the photo album that best suits your style and then personalise it online in a flash!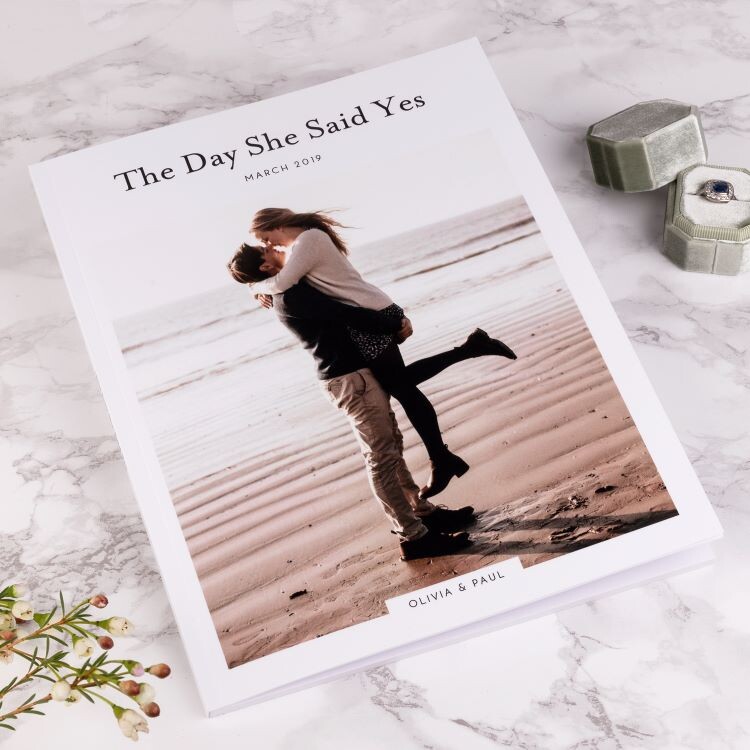 Softcover
Couples Photo Albums
Elegant magazine-style covers for timeless designs
Create your album
Fabric Hardcover
Couples Photo Albums
Albums worthy of your most precious memories
Discover our collection
Printed Hardcover
Couples Photo Albums
A timeless album for your favourite moments together
Create your album
Create couple photo albums to record your greatest adventures
Creating a couples photo albums couldn't be easier, thanks to our online photo book maker and our iOs and Android photo book applications. Choose from our softcover, printed hardcover and fabric hardcover photo books, before entering into our editing tool. Upload your photos from your device, Instagram or Google Photos and choose whether you wish to arrange your photos yourself or whether you would like our photo book maker to fill the pages automatically. Even if you opt for our editor to do the hard work, you can still go back to edit each page layout and adjust the photos to make sure that your couples photo album is just as you had imagined. We also offer page templates to allow you to add messages or captions so create a photo album with text to ensure that you don't forget the names of the places that you both visited or the reason behind the laughter captured in each photo.
Celebrate each milestone with a photo album
As a couple, there will be many milestones worth celebrating. Whether it be an anniversary, moving in together or tying the knot; your life as a couple will be filled with happy moments worth recording in a photo album! From engagement to wedding photo albums, we have photo book styles and covers to suit every occasion. Create a collection of photo albums that tell your love story and capture each year spent together as a couple. Record each romantic getaway so that you can flick back over your favourite destinations to get inspiration for your next adventures together. Stick to one style of photo album to create a collection fit for displaying on your coffee table or your shelves! Don't forget that we are also here to accompany you with stationery for the happy occasions in your lives with everything from wedding invitations to birthday party invitations.
A range of formats for your couples photo albums
As well as a choice of photo album covers, each type of photo album comes in a range of formats and sizes. Choose your photo album to suit the orientation of your photos. Landscape photo books are ideal for recording holidays filled with spectacular views, whilst our square photo albums are a great way to include a mixture of portrait and landscape photos for a wide variety of events. Large photo albums are perfect for those once-in-a-lifetime trips or big events such as your wedding, whilst small photo albums are perfect for immortalising weekend breaks. Couples photo albums from Rosemood start from just £18, with the price depending on the type, size and format of the album as well as the number of pages you choose to add. If you need any help finding the perfect photo album, do not hesitate to get in touch with our friendly customer service team, who will be more than happy to help.
Discover our photo albums for other occasions