Engagement Photo Albums
A photo book for every milestone
If they popped the question and you said yes, you can immortalise this exciting moment in your relationship with an engagement photo album. Getting engaged will have you looking back over the time you have spent together and an engagement photo album is a beautiful way to record your love story so far. Have your engagement make front page news with our magazine-style softcover photo books or use one of our luxury hardcover photo albums to create a premium keepsake that you can treasure forever. All of our personalised photo albums can be personalised online and are printed at our very own studio!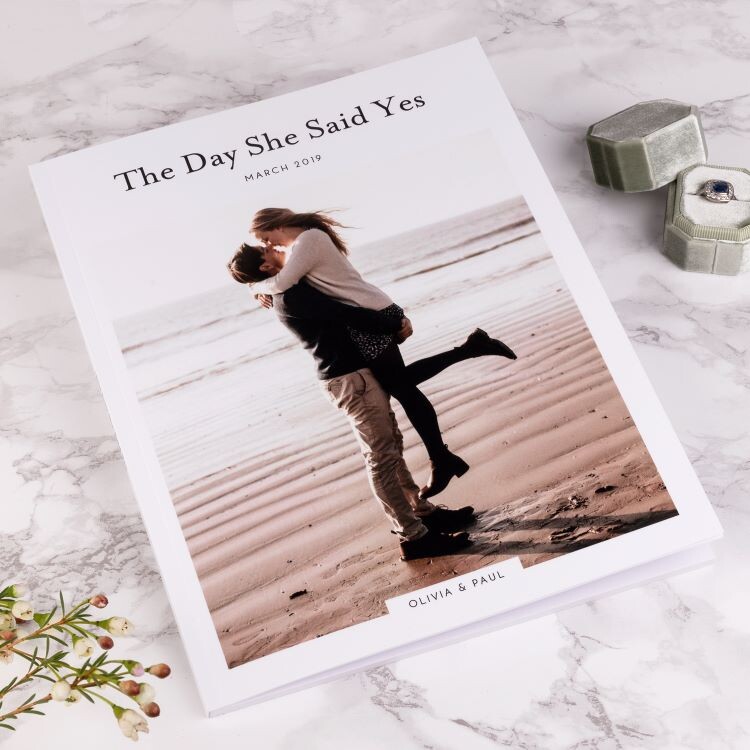 Softcover
Engagement Photo Albums
Elegant magazine-style covers for timeless designs
Create your album
Fabric Hardcover
engagement Photo Albums
Albums worthy of those precious memories
Discover our collection
Printed Hardcover
Engagement Photo Albums
A timeless album to immortalise a special day
Create your album
Start your collection of personalised photo albums
Your engagement will only be one part of your journey as a couple and you are sure to have a plethora of special moments that you wish to capture! Starting from your engagement photo album, your next big step is likely to be your big day, so you can go on to create a matching wedding photo album to record the special memories from your wedding celebrations. This will then pave the way for you to immortalise each holiday together and perhaps even the arrival of a little one! Your collection of personalised photo albums will become a new family heirloom and you are sure to enjoy flicking through your memories for years to come! Our high-quality photo albums are designed to stand the test of time thanks to our carefully selected paper types and impeccable printing. They will become a stunning decorative element for your shelves or coffee table, ready to be browsed at your leisure.
Unbeatable quality for your engagement album
We have hunted high and low for the best materials and have developed our own photo book maker to bring you beautiful photo albums, worthy of becoming treasured family heirlooms that you can pass down from generation to generation! From choosing our stunning Italian fabric to perfecting our artisanal hot foil stamping techniques, we have relished the challenge of designing the finishing touches that make our premium hardcover photo books so special. We have also worked with designers from around the world to curate a collection of softcover photo album designs in a variety of elegant styles. Creating such exquisite photo books has been a big adventure for all of us here at Rosemood, and now we have the privilege of helping you immortalise your precious memories including your recent engagement!
Your memories are in safe hands
Here at Rosemood, we go above and beyond to make sure that your photo albums are absolutely perfect (and the same applies to your first piece of wedding stationery - save the date cards). We are here to help you every step of the way when it comes to creating your engagement photo album so do not hesitate to get in touch via email, phone or online chat. Our friendly customer service team will be more than happy to advise you on our choice of designs, formats and paper! Once you have placed your order for your personalised photo album, our proofreaders will check through your text and your photos will pass through our retouching service. Your engagement photo album will then be printed and bound at our very own printing studio, here in Nantes. Your hardcover photo albums will even be finished off with our hot foil stamping, with every detail of your photo album created to show off your favourite photos in their full glory.
Discover our photo albums for other occasions